Molly Tufnell
'Stitches the Universe'
Contemporary Artist & Teacher
Meditative processes are central to my work and my life: repetition of the self-similar occurs in all sorts of ways. I have projects that are personal and a community project that was in the early stages of development when Covid hit and is now on the back burner and waiting until I can be face to face once more. I see connections between these things with the way natural processes and patterns occur and how they develop in textile structure and technique as well. Small discrete little packages making a whole.
Mindful practises are well documented in the public domain and provide all sorts of benefits not least to your mental health and following these ideas are integral to my work and way of life. Below are some links that explain this approach and academic research linking creativity with wellbeing.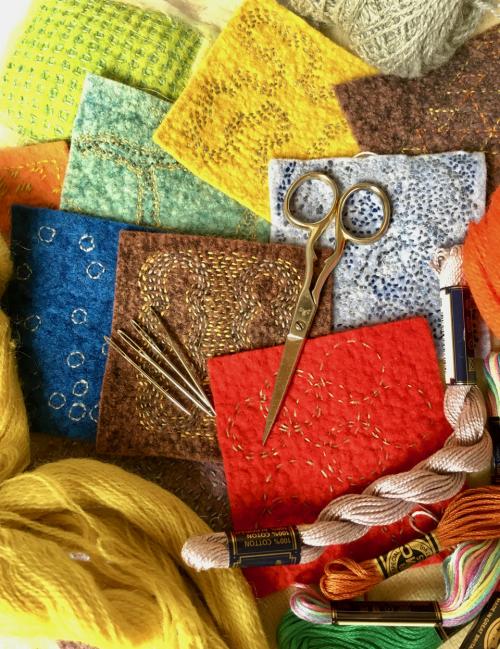 Stitching Slowly
Please note that this project is in development and has been put on hold due to Covid-19. Participants will learn and use very simple stitching techniques in a weekly supportive group where the slow, repetitive, meditative process of hand stitching has more importance than the outcomes. Although primarily aimed at people who are lonely, isolated, or experiencing mental health problems such as anxiety or depression, you might simply be interested in learning about this type of stitching. No previous experience will be necessary, and the activity is suitable for anyone, possibly including people referred under social prescribing projects. Creative activity can help people to relax, focus, expand their imagination, develop patience, and have fun, and as a bonus, a small stitching project is very portable!

If this is something you might be interested in, and live in the Liskeard area, please contact me. I am considering delivering this via Zoom, please also let me know if this is a method you might feel comfortable with.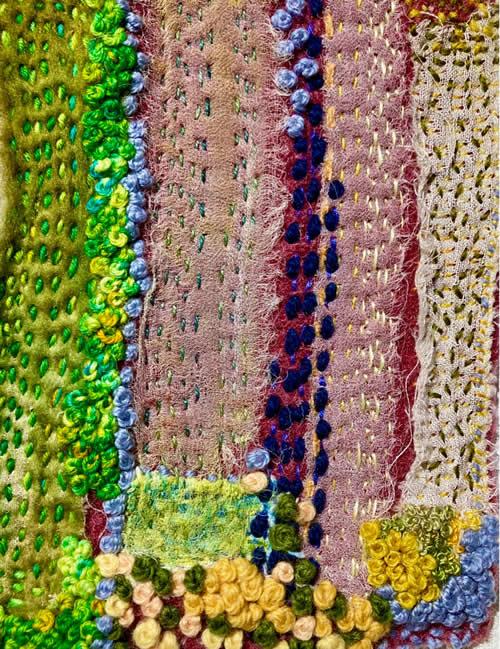 My Textile Meditations
I work slowly, thoughtfully, meditatively and 'in the moment', so much of what I do could be shown here. Instead, I will simply show some images of the sort of things that I specifically use, or make, to slow me down and help me think clearly about my work and ideas, and this usually happens before I start to produce in my studio